Subscribe: Apple Podcasts | Android | RSS
Major media outlets launch sponsored content with their Facebook Instant Articles and Jason Keath takes us through the highlights of Social Fresh's Future of Social research report. Gini Dietrich, Martin Waxman and Joseph Thornley tackle these topics and more in this week's Inside PR podcast.
#IPRMustKnow
Sponsored Content on Facebook Instant Articles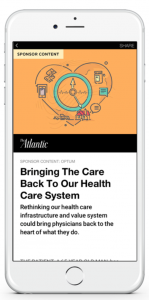 Neiman Labs reports that two heavyweight traditional news outlets, the Washington Post and The Atlantic, have begun running sponsored content in their Facebook Instant Articles. Happily, the illustration in the Nieman Labs story suggests that the content will be clearly labelled as "Sponsor Content." I tried to verify that by reviewing my own newsfeed. However, I couldn't find a single sponsored article from either the Washington Post or The Atlantic. That makes me think that either this sponsored content is so far very rare or Facebook is geotargeting the ads and my Canadian IP address puts me outside of the target area for them.
Jason Keath, Founder of Social Fresh
Jason Keath is the CEO of Social Fresh, which recently released The Future of Social, a report based on research involving over 500 social media managers and executives. Gini tracked him down and interviewed him about the report and the lessons we can take from it. Among the highlights:
Companies that invest in social media tools achieve a greater return than those who don't.
95% of respondents using social media software report a positive ROI on their social media activities vs. 63% who are not investing in tools.
Social media is best at connecting with existing audiences, customers, strongest leads, fans and stakeholders. Building awareness through social media can be an expensive proposition.
To increase leads and sales, focus more time on fewer pieces of content. For example, Social Fresh invests heavily both in their research and the conference. This enables them to stand out by being deeper and offering more unique insights.
Take your audience up the commitment curve. Ask little of them at the beginning. Reading a post. Downloading a paper. Registering. Then work them up the curve to larger commitments.
Instagram is on the verge of leapfrogging LinkedIn and Twitter to become the second largest ad platform.
Marketers report satisfaction with the results they are achieving with video content and they plan to increase their commitment to it in the coming year.
If you're interested in more info about this year's Social Fresh conference, it will be held August 18 to 21 in Orlando. Discounted registration is available until August 1.
We'd love to know what you think.
Leave a comment on the blog, send us an email or an audio comment to [email protected], join the FIR Google+ Community, join the Inside PR Facebook group, message us @inside_pr on Twitter, or connect with Gini Dietrich, Joseph Thornley, and Martin Waxman on Twitter. And we have a favor to ask: If you like this podcast, please rate us on iTunes.
******************************************************************
Thank you to the people behind Inside PR. Our theme music was created by Damon de Szegheo; Roger Dey is our announcer. Inside PR is produced by Joseph Thornley.