Subscribe: Apple Podcasts | Android | RSS
[display_podcast]
Yes, we all love making contact online with people who share our interests. But for Martin, Gini and I, that only feeds our appetite to meet the people in real life after we've connected with them online. And what better place to do this than a conference focusing on topics that matter to us?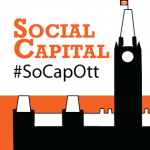 There's just such a conference coming up next weekend on June 1 – the Social Capital Conference. Now in its third year, SoCapOtt has grown in number of attendees and number of sessions and speakers featured each year.
We know first hand how good this conference really is, both from attending and also speaking.  In fact Martin delivered the opening keynote last year and Gini is delivering the opening keynote this year. So, we sought an interview with Karen Wilson, co-founder with Lara Wellman of SoCapOtt and, along with Melany Gallant and Jordan Danger,  one of the organizers of this year's conference.
In her interview, Karen offers some useful insight to others who might be thinking about organizing a conference. She speaks of mistakes made, lessons learned and the importance of engaging your intended participants in developing themes and content.
And it wouldn't be Inside PR if Martin, Gini and I didn't use the topic at hand to riff on a related topic. Martin is leading a session on Social Media goes to College with a panel of people teaching social media. And that gives us a chance to riff on the challenge of locking in course content in an area like social media that changes so rapidly.
But that's just what we think. We'd love it if you'd listen to the episode and tell us what you think.
********************************************
Send us an email or an audio comment to [email protected], join the Inside PR Google+ Community, join the Inside PR Facebook group, leave us a comment here, message us @inside_pr on Twitter, or connect with Gini Dietrich, Joseph Thornley, and Martin Waxman on Twitter. Our theme music was created by Damon de Szegheo; Roger Dey is our announcer. Inside PR is produced by Kristine Simpson and Ashlea LeCompte.